Flint Handmade was originally called Flint City Handmade and was founded by Crystal Pepperdine in 2007 as the crafter's team of the Greater Flint Creative Alliance.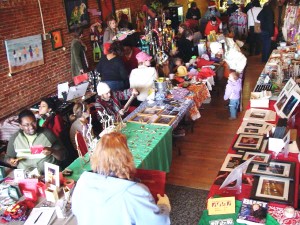 The Beginning
Crystal Pepperdine served on the Board of the Greater Flint Creative Alliance and had recently attended the first annual Detroit Urban Craft Fair by Handmade Detroit.  She decided that Flint needed a modern, independent craft fair, too, and thus, Flint City Handmade was born.
The first annual Flint City Handmade Holiday Craft Market was held on December 1, 2007 at The Lunch Studio in Downtown Flint with just 20 vendors packed tight in the small space.  About 150 shoppers attended and everyone loved the fresh, hip handmade goods.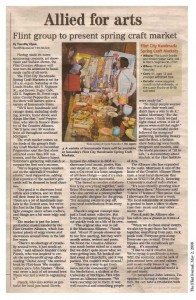 2008-2011
Flint City Handmade added the Spring Craft Market in 2008 and expanded to include vendors at Brown Sugar Cafe and other businesses along Saginaw Street.  We added more events to our programming, including an open craft social called craftLAB on the first Sunday of every month.
In May of 2009, Flint City Handmade became an independent organization and was renamed Flint Handmade.  Flint Handmade launched a blog and began offering Craft Supply Swaps and participating in the Flint Festival of Quilts in addition to hosting the Spring and Holiday Craft Markets as "craft crawls" in multiple adjacent locations.  We also opened our handmade small consignment shop inside The Lunch Studio.
In 2010, we introduced our signature "Knuckles" logo designed by Yasmin Ladha.  We became one of the participating art organizations in the Cool City Art Auction and began hosting a monthly Second Saturday Giveaway on our blog that featured an interview and workspace photos with a local crafter.  CraftLABs also evolved into craft workshops with all materials and instruction provided.
In the summer of 2011, Flint Handmade hosted Craft City at the Inaugural Buckham Alley Fest.  We received a grant from the Ruth Mott Foundation in partnership with the Greater Flint Arts Council to offer domestic arts and crafts workshops called SkillShare in the fall.  We brought a cross-country letterpress truck to the Flint Farmers' Market and presented at the [IN]Spire Conference for creativity, innovation and social entrepreneurship at the University of Michigan-Flint.  AND, most importantly, we finally became an offical 501c3 nonprofit organization!  We launched a successful membership campaign and raised over $2,500 in less than 3 months!
2012-2015
2012 was a very active year.  In additional to all of our existing programming (Craft Markets, Craft Supply Swaps, craftLABs, SkillShare, Cool City Art Auction, Buckham Alley Fest, Flint Festival of Quilts), we have launched a Craft CSA, won a Recycling Award from Keep Genesee County Beautiful for our Craft Supply Swaps, declared February 29th to be Creative Leap Day and begun hosting monthly volunteer work parties.  This year, we will also be participating in the Crafting the Small Business Series at Maker Works in Ann Arbor, organizing the craft vendors for Ladies Night Out at Crossroads Village and much, much more!
In 2013, we made a deliberate decision to focus on and grow our core programs: craftLABs, Craft Supply Swaps and Craft Markets.  Based on our concentrated effort, attendance at all of these events increased and we received very positive feedback from our participants.
In 2014, we increased the number of Craft Supply Swaps from two to four per year at the request of our members.  We wanted to begin offering more programming on the out county areas as outreach for the majority of our events in Flint.  So, we also partnered with the Genesee District Library to host the first annual Book Lovers' Craft Fair at the Grand Blanc-McFarlen Branch, which was a huge success for both Flint Handmade and the GDL.
In 2015, we hosted out first annual Valentine's Mini Market at the Flint Farmers' Market.  Based on the success of that event, we were recruited to organize the Summer Art & Craft Street Fair for the Flint Farmers' Market.  We introduced market shoppers to dozens of local artisans and provided free face painting and mini craft supply swaps all summer long.  We also partnered with the Whaley Historic House Museum to offer an Old-Fashioned Quilting Bee every other month and with El Ballet Folklórico to provide ArtWalk entertainment and vendors every month at The Lunch Studio.
2016-2019
In 2016, Flint Handmade became our Executive Director's full time job and we added many new programs. We transitioned our Saturday craftLABs into weeknight Craft Academy workshops at The Local Grocer and saw a significant increase in attendance. We also moved to The Local Grocer for ArtWalk and curated an ongoing art show featuring a new artist, illustrator, photographer or graphic designer each month. Thanks to sponsorships from community businesses, we were able to begin offering free quarterly Coloring Parties for all ages at Tenacity Brewing. We also hosted our first annual Halloween Mini Market at the Flint Farmers' Market. We formally recognized our members, partners and volunteers at an appreciation event.

In 2017, we revitalized our Yarn Brigade with a new volunteer Coordinator and began meeting monthly at ArtWalk at The Local Grocer. We hosted three themed shows (jewelry, pottery and bath & body) in partnership with Yellow Dog Marketplace in Goodrich. We once again participated in the Cool City Art Action. We began hosting monthly drop-in social crafting meetups at Tenacity Coffee Roasters and Totem Books.

In 2018, we moved one of our social crafting meetups to The Good Beans Cafe. Our Yarn Brigade began meeting twice a month and making collaborative crochet quilts for the Festival of Quilts. We partnered with R&B Used Books to host a free monthly Pajama Storytime & Crafts, the first event of its kind in Genesee County. We increased our Crafty Supply Swaps from quarterly to monthly and hosted them in different cities to reach more community members. We participated in the Fiber Festival at Crossroads Village. We began hosting Crafting for Charity events and made blankets and toys for Adopt-a-Pet in Fenton and the Humane Society of Genesee County. We co-organized a successful Small Business Saturday campaign with the Flint Forum for Social Business.
In 2019, we partnered with small, local businesses to host Small Business Saturdays in conjunction with our four craft markets in Downtown Flint. We partnered with the Flint Public Library and Great Start Collaborative Parent Coalition to host a free Family Zombie Jamboree & Parade with crafts and coloring pages with the support of the Flint Zombie Walk, which ended its programming the previous year. We continued our Crafting for Charity events and made holiday cards for kids at Hurley Children's Hospital.
2020 and Beyond
In 2020, we hit the ground running in January with a Coloring Party at Tenacity Brewing and our first ever Craft Supply Swap in Fenton at Cause & Affect Gallery. We hosted our 6th Annual Valentine's Mini Market in February. We reformatted our drop-in Craft Academy classes to pre-registration Craft Workshops and hired a local artisan to facilitate a very well attended zen doodle workshop in partnership with R&B Used Books in Grand Blanc. Then, COVID-19 hit and we immediately reformatted all our events to be online only.

During the pandemic, we have released all of our content for free virtually, such as pajama storytime videos and coloring pages. We re-imagined our in-person craft markets as virtual shows and care packages with free, zero contact porch delivery in Genesee County. We also provided direct financial support to local artisans by paying for coloring page designs and placing wholesale orders of handmade goods for our care packages.
In 2022, we began hosting in-person events again and are focused on our four main programs: Craft Markets, Craft Supply Swaps, Coloring Parties and Yarn Brigade. We now host four Craft Markets (Valentine's, Spring, Halloween and Holiday) per year in the Ramsdell Community Room at the Flint Farmers' Market. Our Craft Supply Swaps occur three times a month from May to October for a total of 18 events. Coloring Parties are hosted monthly from June to September at Tenacity Brewing. Yarn Brigade meets twice a month all year long and has donated over 3,000 handmade knit/crochet items to those in need since its inception in 2012.
A Special Thanks
We also want to give a special thanks to those women who played an instrumental role in Flint Handmade during our early years: Jessica Nickola Planck, Michelle Stolz, Tracey Whelpley, Amy Kelsey, Emily Hudson and Koliye Speck.