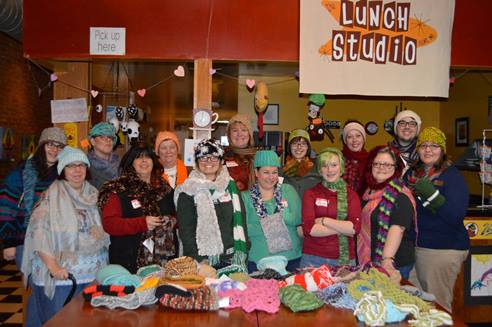 MEMBERSHIP DRIVE
Flint Handmade is an events-based, all-volunteer 501(c)(3) nonprofit organization encouraging creative expression and commerce in Flint through handcrafting.
We organize two large indie craft markets every year, provide four craft supply swaps every year , offer educational craft workshops, host a twice monthly knitting/crocheting group called Yarn Brigade (pictured at left) and participate in a variety of community events.
Please support our work by becoming a member today!
Read our blog highlighting all of Flint Handmade's events, crafter interviews, program updates and more!
Visit page >>>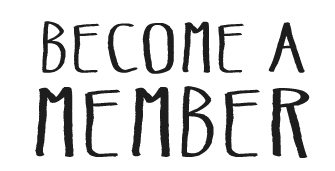 Flint Handmade is largely funded by the support of it's members. Check out all of the benefits and consider becoming part of our team! We're hosting a Craft Supply Swap on Saturday, April 5, 2014 at The Lunch Studio in Downtown Flint!
CLICK HERE for more information. The 7th Annual Flint Handmade Spring Craft Market was held on Saturday, May 3, 2014 from 10am-4pm at The Masonic Temple in Downtown Flint!
The Spring Craft Market featured members of Flint Handmade selling a wide variety of unique, modern handmade items such as local foods, art glass, vintage-inspired jewelry, knit and crocheted goods, hand-poured soy candles, paper crafts, natural bath and beauty products, plush toys and much more.
The first 25 shoppers of the day received free goodie bags filled with vendor coupons, merchandise, and other treats.
The Temple Dining Room inside The Masonic Temple was open for sit-down and take-out lunches from 11am-2pm.
CLICK HERE to see photos from the event! Flint Handmade hosts a social knitting and crocheting group called Yarn Brigade twice a month.
For more information, join our Facebook group!
HOLIDAY CRAFT MARKET
Thank you so much to 900+ attendees at the 8th Annual Flint Handmade Holiday Craft Market on Saturday, November 29, 2014 at The Masonic Temple in Downtown Flint!
Mark your calendars for the 8th Annual Spring Craft Market on Saturday, May 2, 2015!
Visit page >>>