Yarn Brigade
Flint Handmade hosts social knitting and crocheting group called Yarn Brigade that meets twice a month. For more information, join our Facebook group!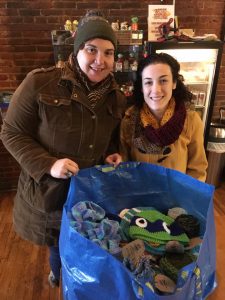 We meet on the second Friday of the month from 6-9pm at various ArtWalk locations in Downtown Flint and on the fourth or fifth Friday of the month from 5:30-7:30pm at various restaurants around Genesee County. Please check our Facebook Events for location information. Bring your own project to work on or join in on any of our ongoing projects:
Operation: Warm Up Flint — All sizes and styles accepted!
We are always accepting handmade hats, scarves and gloves for our annual community outreach project called Operation: Warm Up Flint. Every winter, we attach cold weather gear to trees and poles in Downtown Flint with small notes reading: "FREE TO A GOOD HOME! If you're cold, please take me to warm up!"
Operation: Safe Slippers — Click HERE for crochet slipper pattern!
Operation: Safe Slippers provides handmade slippers for women and children staying in local shelters, especially those providing services to victims of domestic violence and sexual assault. Tags are attached to the slippers that read "You are safe in these slippers. You are loved, respected and supported by our community."
Operation: Mighty Mittens — Click HERE for crochet mitten pattern!
The Flint Handmade Yarn Brigade launched a new community outreach project in 2019 called Operation: Mighty Mittens. Our knitters and crocheters are creating mittens for local children in need, especially those in the foster care system. Tags will be attached to the mittens that read "You are strong and mighty! Keep your hands warm with these Mighty Mittens!"
Our current Yarn Brigade Coordinator is Hayley Randol (pictured right) of Good and Evil Studios. Special thanks to our previous Yarn Brigade Coordinators, Symantha Foreman (pictured left) and John Coleman!
Previous Flint Handmade Yarn Brigade Projects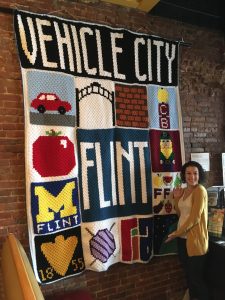 Flint Crochet Quilt
"As Coordinator of the Flint Handmade Yarn Brigade, I wanted to design a corner-to-corner (c2c) graphghan that represented our great city of Flint, MI. All patterns feature Flint landmarks and themes, including Applewood, the Vernor's Gnome, the Downtown Bricks and more. The blanket is done in mini c2c crochet and measures approximately 75" wide x 86.5" long."
This graphghan was originally designed by Hayley Randol as a Crochet-A-Long with patterns released weekly. The complete pattern is now available for purchase as a PDF at www.goodandevilstudios.etsy.com.
Traveling Exhibition Schedule – Free Admission
February 2018: Flint Farmers' Market
November 2017-January 2018: The Lunch Studio
October 2017: The Local Grocer
If you are interested in displaying the Flint Crochet Quilt at your location, please send us a message on Facebook or email us at flinthandmade@hotmail.com. Thank you!