Crafts, Coffee & Donuts
Flint Handmade hosts Crafts, Coffee & Donuts on the first Friday of every month from 7-11am at Heyday Coffee Roasters near Downtown Flint.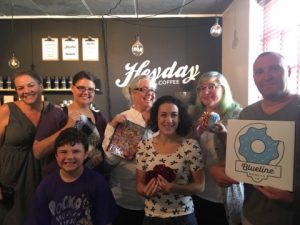 We're getting together to craft over coffee and donuts! Bring your handmade projects to work on in the company of other creatives. :)
All types of non-messy crafts are welcome. Stay for an hour or the entire time!
In previous months, folks were journaling, crocheting and knitting with Yarn Brigade, plannerizing, hand quilting, drawing on iPads, embroidering, vision boarding, sewing, working on laptops and making kids crafts.
Heyday Coffee Roasters is located inside Tenacity Brewing and Blueline Donuts at Carriage Town Ministries will be serving up their delicious pastries made in Flint!