Book Lovers' Craft Fair
The Genesee District Library and Flint Handmade are hosting the 3nd Annual Book Lovers' Craft Fair at the Grand Blanc-McFarlen Library on Saturday, November 12, 2016 from 10am-4pm.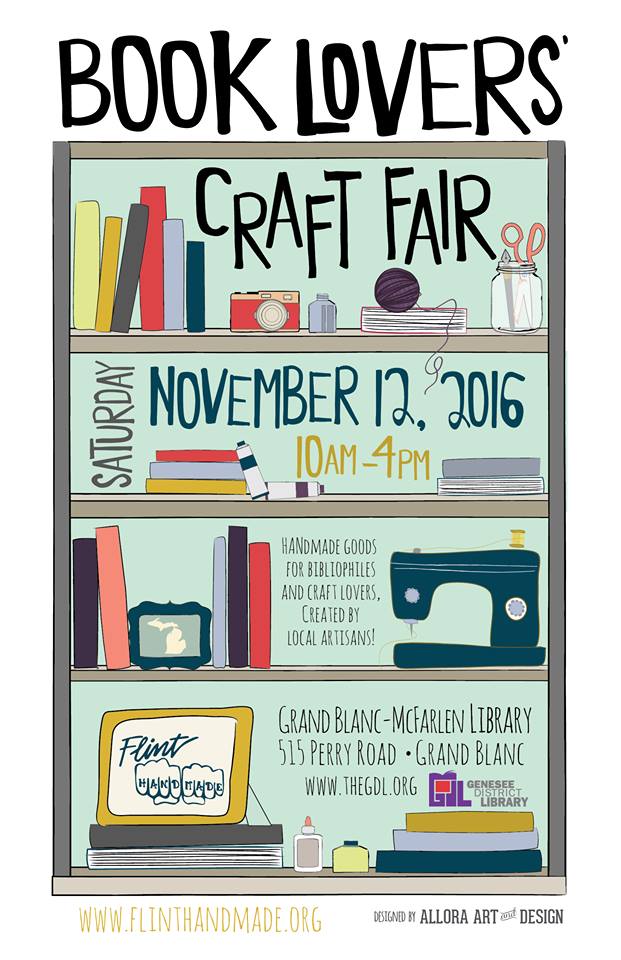 The Book Lovers' Craft Fair features a dozen artisans with many handmade goods related to books, authors, reading and libraries. Admission is FREE!
Items included papercrafts, ceramics, vintage-inspired jewelry, homemade jams, soy candles, natural bath and beauty products and much more.
NEW FOR 2016: We will have a free make-and-take craft for all ages…origami gift card holders! All supplies provided.
The Grand Blanc-McFarlen Library is located at 515 Perry Road in Grand Blanc.
2016 VENDOR LIST
All AmeriCAN Canning Company
allora art and design
Blue Jewel Beach
Breath by Chocolate
ChicalooKate
From J.Loo to You
Good and Evil Studios
Lisa Napier Sews
LUMINIST
Lydia's Vintage
Madge & Gert Soy Candles
Nellie's Natural Soap
Click HERE for 2016 Facebook Event.
View photos from previous years at the links below!
2015 Book Lovers' Craft Fair
2014 Book Lovers' Craft Fair